KEYNOTE SPEAKERS
Keynote speakers confirmed so far are:
Dr. Dr. Norbert Streitz (Ph. D. in physics, Ph. D. In psychology) is a Senior Scientist and Strategic Advisor with more than 30 years of experience in information and communication technology. He is the founder and scientific director of the Smart Future Initiative (SFI) launched in 2009. From 1987 – 2008, he was at the Fraunhofer Institute IPSI in Darmstadt, holding different positions as Division Manager and Deputy Director and, e.g., founding the research division "AMBIENTE – Smart Environments of the Future". In parallel, he taught at the Department of Computer Science of the Technical University Darmstadt for more than 15 years. Before IPSI, he was an Assistant Professor at the Technical University Aachen (RWTH), where he founded the ACCEPT-Group (AaChen Cognitive Ergonomics ProjecT). At different times of his career, he was a post-doc research fellow at the University of California, Berkeley, a visiting scholar at Xerox PARC, and at the Intelligent Systems Lab of MITI, Tsukuba Science City, Japan.
His research activities cover a wide range of areas: Cognitive Science, Human-Computer Interaction, Hypertext/Hypermedia, Computer-Supported Cooperative Work (CSCW), Ubiquitous Computing and Ambient Intelligence, Interaction and Experience Design in the context of Hybrid (real and virtual) Worlds, Smart Cities and more recently Smart Airports. In particular, since 2007, he is working on Smart Hybrid Cities where the guiding objective is the ambition to develop a Humane City.
For more info please visit: http://www.smart-future.net/8.html
Keynote Presentation Title: Citizen-Centered Design for Humane and Sociable Hybrid Cities
Abstract: With more than half of the world population living in cities (urban age), economic prosperity and quality of life will largely depend on the ability of cities to exploit their full potential. With the deployment of ambient intelligence infrastructures, urban environments are transformed into interactive spaces that are meant to be adaptive and smart. Combining information and experience spaces with ubiquitous computing in urban contexts results in what is being called 'smart hybrid cities'.
This keynote will address opportunities and risks of smart cities and the resulting issues and challenges for designing public smart spaces. Contrasting the mainly technology¬-driven approaches, a human-environment-interaction perspective for the challenge of urban life management is presented. This includes the shift from information design to experience design. Airports are good examples of blending a range of functions people are usually looking for in cities, but now for a limited time at this location. Airports serve as 'transient spaces' providing support for 'polyphasic activities'. Translating this in an overall design rationale, one can state: "designing airports is designing transient smart cities".

But how smart will or can life be in smart environments? Is it really 'smart' to surrender the data generated from and about you to various service providers and institutions? We are arguing for a people-oriented, empowering smartness where smart spaces make people smarter by keeping the human in the loop, allowing for self-determination and trade-offs. This requires discussing the implications of public sensor-based environments for privacy. So far, mainly discussed in the virtual world, privacy will increasingly become an issue in the real world. It is turning more and more into a commodity people have to pay for and thus a privilege. The talk builds on a perspective and vision for reconciling humans and technology by arguing for a citizen-centered design approach resulting in Humane and Sociable Smart Hybrid Cities where people can exploit their creative, social and economic potential and lead a self-determined life.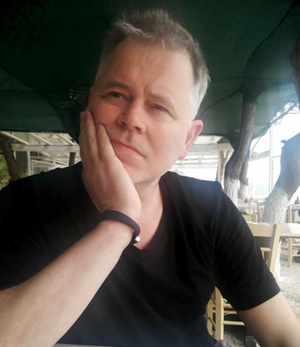 Mike Phillips, is Professor of Interdisciplinary Arts at Plymouth University, the Director of Research at i-DAT.org and a Principal Supervisor for the Planetary Collegium.
His R&D orbits a portfolio of projects that explore the ubiquity of data 'harvested' from an instrumentalised world and its potential as a material for revealing things that lie outside our normal frames of reference – things so far away, so close, so massive, so small and so ad infinitum (www.op-sy.com).
He manages the Fulldome Immersive Vision Theatre (www.i-dat.org/ivt/), a transdisciplinary instrument for manifesting (im)material and imaginary worlds and is co-editor of Ubiquity, The Journal of Pervasive Media http://www.ubiquityjournal.net/
Phillips is an active member of an international transdisciplinary community that engages with immersive, interactive and performative technologies. He sits on the ISEA International Advisory Committee, the AHRC Internet of Things Advisory Board, Arts Council England SW Digital Reference Group, the TSB Internet of Things Special Interest Group and is a founding Partner and Organiser of FullDome UK (www.fulldome.org.uk/).
For more info please visit: https://www.plymouth.ac.uk/staff/mike-phillips , http://i-dat.org/
Keynote Presentation Title: reciproCITY–from data to ta-da!
Abstract: The harvesting of data from citizens, communities and buildings is a contemporary obsession. It is a concern that the desire to build real-time data models should so strangely mimic the historical preoccupation with building traditional architectural models. The history of vaulting ambition in urban planning is littered with photographs of the architect, town planner and City Mayor looming over a balsa wood and card model of the future. The sense of distance, dominance and control is tangible. And this history is being recycled in Smart Cities all over the planet.
data

Pronunciation: /ˈdeɪtə/

noun

da•ta \ˈdā-tə, ˈda- also ˈdä-\

Facts and statistics collected together for reference or analysis:

"Data is a precious thing…" (Berners-Lee, T.):

1: factual information (such as numbers or symbols) used to make decisions, inform policy or calculate solutions

2: Facts are simple and facts are straight. Facts are lazy and facts are late. Facts all come with points of view. Facts don't do what I want them to. Facts just twist the truth around… (Byrne, D. Eno, D. et al)

3: Numerical values generated by a sensor, such as environmental or biological monitor.

4: ta-da spelt backwards (see ta-da)

Mid 17th century (as a term in philosophy): from Latin, plural of datum.


Most cities are littered with data sets, trapped in preparatory software and a variety of incompatible formats. Before meaningful modelling can commence there is usually a need for a significant data archaeology, cleansing and standardisation through a rigorous curatorial process. Or maybe it is simpler to forget the past and start the harvest afresh. Either way data is useless without effective analytics.

It is extremely difficult to see patterns and relationships in diverse data sets. The coupling of qualitative and quantitative data is problematic and even the interpretation of correlations between disparate data sets is challenging, often requiring, either hypothesis driven or good old fashioned intuitive decision making.

In addition to the easily measurable metrics and indices, the social and economic, a more holistic approach to capturing the intangible impacts of civic activity, such as mood, feelings, participation and engagement is needed. These qualitative metrics provide real-time feedback on how the City 'feels' and have the potential to encourage a greater democratic engagement and reciprocity between stakeholders.

Complex data analytics such as hotspot detection, correlation of data sets, sentiment analysis and analytical models based on modern integrative, sub-symbolic, computational techniques (Artificial Neural Networks, Self-Organising Maps and Deep Learning Networks) need to be deployed to generate new meaning from human urban behaviour. Primarily used in robotics and the complex analysis of economic data, these techniques offer great potential for the social and cultural sector to better understand and utilise qualitative and quantitative data, offering new analytical and predictive methods and tools which could assist in enhancement of reciprocal democratic processes, planning and engagement. Some kind of magic.

ta-da

Pronunciation: /təˈdɑː/

(also ta-dah)

Definition of ta-da in English:

exclamation / interjection

"abracadabra, ta-da!" (Houdini, H.)

1: A simulated trumpet fanfare (typically to emphasise an extraordinary entrance, point or revelation.) Often following a dramatic build up and complemented by jazz hands and an exclamation mark.

2: data spelt backwards (see data)

Mid BC (possibly predates the invention of the trumpet): from Latin, plural of ta-datum.

Some kind of alchemy, a different kind of model. With a focus on real-time analytics and processes for directly engaging individuals and communities, this presentation zooms in on the little bits and bytes of data, the smiles, nods, "hello's" and "thankyou's", the myriad of micro transactions that calculate in real-time the value (- &+) of a social urban landscape.
Martijn de Waal is the author of "The City as Interface. How Digital Media Are Changing the City". He is also a co-founder of the Mobile City, an international research platform that since 2007 investigates the role of digital media in urban culture and urban design. He is a researcher on Citizen Empowerment at the Amsterdam University of Applied Sciences, and an assistant professor at the department of Media Studies, at the University of Amsterdam. In 2009 he was a visiting scholar at the Center for Civic Media at M.I.T. in Cambridge, MA.
For more info please visit: www.martijndewaal.nl , www.thecityasinterface.com
Keynote Presentation Title: The Hackable City
Abstract: Over the last few years the network society had started to turn into a platform society. From open source neighbourhood platforms to venture capital backed mobility marketplaces, many of our social interactions can now be organized through the algorithms and reputation systems of online platforms such as Facebook, Uber, Strava, Open311, and so many others.
Convenient as this may be, it also leads to a number of important questions. Cities have oftenbeen understood as 'interfaces' that spatially organize our social lives, providing physical linkages between various members of a diverse population. However, now that these interfaces are increasingly owned and organized by digital platforms, to what extent does the city remain such an open system?
Looking at these developments through the lens of 'the hackable city' will unravel a number of important issues that the current smart city discourse fails to address properly. How can we safeguard a 'hackable' city, a city whose digital platforms are open and can be appropriated by its citizens from the perspective of the common good?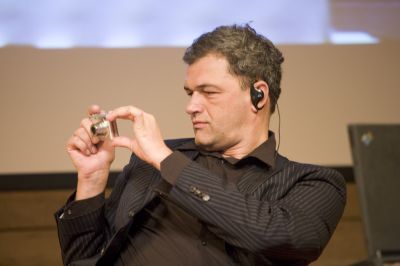 Armin Medosch PhD, MA, is Professor of Theory and History of Art and Media at the Faculty of Media and Communications at Singidunum University, Belgrade. He is an artist, curator and author working in art and media art theory and network culture. His work as curator includes large exhibitions such as Telepolis, Luxemburg 1995; Waves (Riga, 2006; Dortmund, 2008); and Fields (Riga Culture Capital 2014); as well as work on the border between research and activism, such as Kingdom of Piracy (2001-1006), together with Shu Lea Cheang and Yukiko Shikata. He has been awarded the degree of Ph.D. in Arts and Computational Technology (ACT) at Goldsmiths, University of London, in 2012 for his practice-based research on exhibitions as sites of research and the early history of media art, based on a case study of the New Tendencies movement. He is initiator of the Technopolitics working group in Vienna and initiator and maintainer of the cooperative web-space thenextlayer.org. His manuscript "New Tendencies – Art at the Threshold of the Information Revolution" is expected to be published by MIT Press in early 2016.
For more info please visit: thenextlayer.org.
Keynote Presentation Title: Cities of the Sun – Urban Revolutions and the Network Commons
Abstract: This paper draws on the notion of the urban revolutions as proposed by Henri Lefebvre, and crosses and hybridizes it with the projects to realize a network commons, do-it-yourself citize's networking projects, such as Athens Wireless Metropolitan Network, Guifi.net, Spain, Freifunk, Germany. Concrete examples for the speculative thesis are provided by artistic explorations of the wireless commons through artists and groups such as Take2030, Okno,Mediengruppe Bitnik. The notion of the city as project, from its ancient to contemporary readings, will provide a context to investigate if direct democracy and mesh networks can forman alliance or if the electronic agora, as a child of the 1990s, has been surpassed by commercial models such as Internet of Things. New social movements and artists, and hackercommunities have been avant-garde movements developing emancipatory media projects. The network commons provide an alternative model of network provision, beyond business and the state. But does the world want to listen?
Betty Tsakarestou is Assistant Professor, Head of Advertising and Public Relations Lab at the Department of Communication, Media and Culture of Panteion University, Greece, External Lecturer at Copenhagen Business School and Member of the Governing Board of the Technological Educational Institution of Ionian Islands.
In June 2012, she has joined CCEBI research network at CBS and organized, in this capacity, the first Athens Co-Creation workshop in November 2012 in Cities as Platforms for Innovation and in 2014 the second Co-Creation Workshop on Shareable Cities, Entrepreneurship and Creative Economy in collaboration with Panteion University and the Technological Educational Institution of Ionian Islands. Her research and teaching expands on advertising and PR, crisis communication management in social and mobile web, CSR, sustainability, city branding, collaborative and mobile consumption, startup entrepreneurship, social innovation and co-creation. She coordinates "Mobile Generation Next" research project on collaborative mobile consumption in the sharing economy.
She has served as Director of Educational Radio-Television at the Ministry of Education, from 2010 -2012 where she designed the digital transition strategy.
The last four years, she participates as an expert in EU media literacy projects.
For more info please visit: http://gr.linkedin.com/in/bettytsakarestou.
Keynote Presentation Title: Athens City branding as a bottom-up co-creation experiment
Abstract: Exploring the potential for a collaborative multi- storytelling approach to the branding of Athens by connecting the stories and the perspectives produced and disseminated by the emerging, hubs of creative economy, startup ecosystem, social entrepreneurs and citizens' initiatives as well as by cultural institutions and local authorities. Mapping Athens as a platform for sustainable innovation in the sharing and collaborative economy.